FX ANIMATION BARCELONA 
3D & FILM SCHOOL
TWO TRAINING AREAS:
3D / ANIMATION AND FILM
With more than 13 years of experience and internationally recognized as one of the 100 best animation and film schools in the world, we are a top school with its own high-performance certifications, a single headquarters in Barcelona and with two large areas of training: 3D / Animation and Film.
With a clear vision of training for the future, focused on an educational model adapted to the new profiles of students of the XXI century that respond to the new roles required by the industry, we are committed to promoting the creativity, leadership, teamwork, technical training, critical capacity and self-sufficiency of our students as future professionals.
Our educational method and innovation in training, results in 99% job placement of students both nationally and internationally.
Certified by the main software manufacturers, our students work at more than 800 companies, guaranteeing their high level of educational and professional training.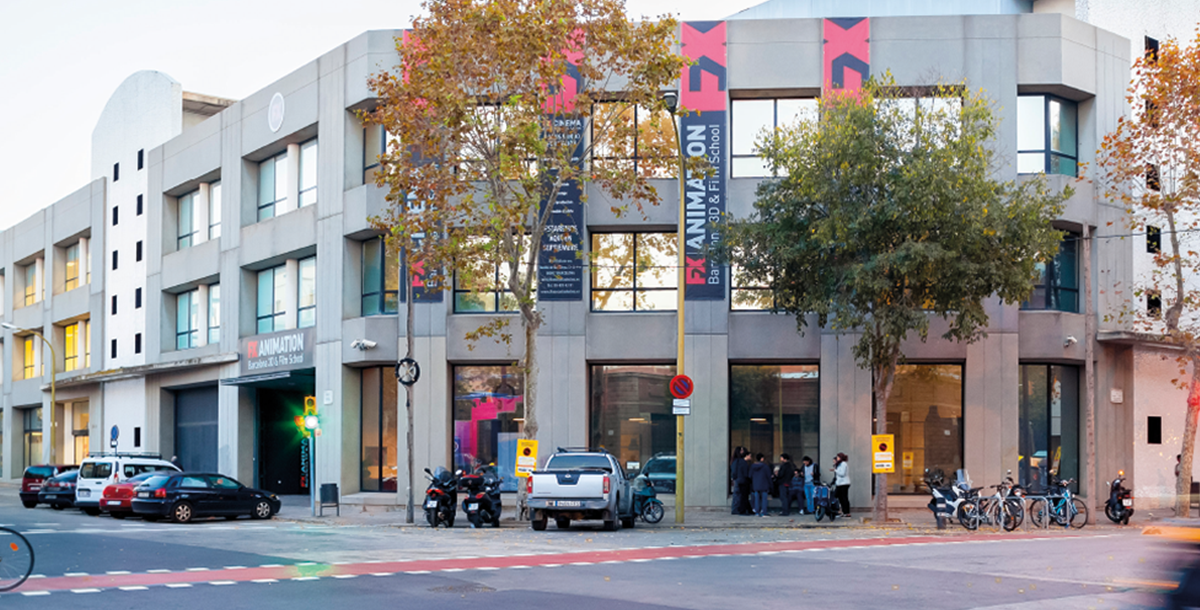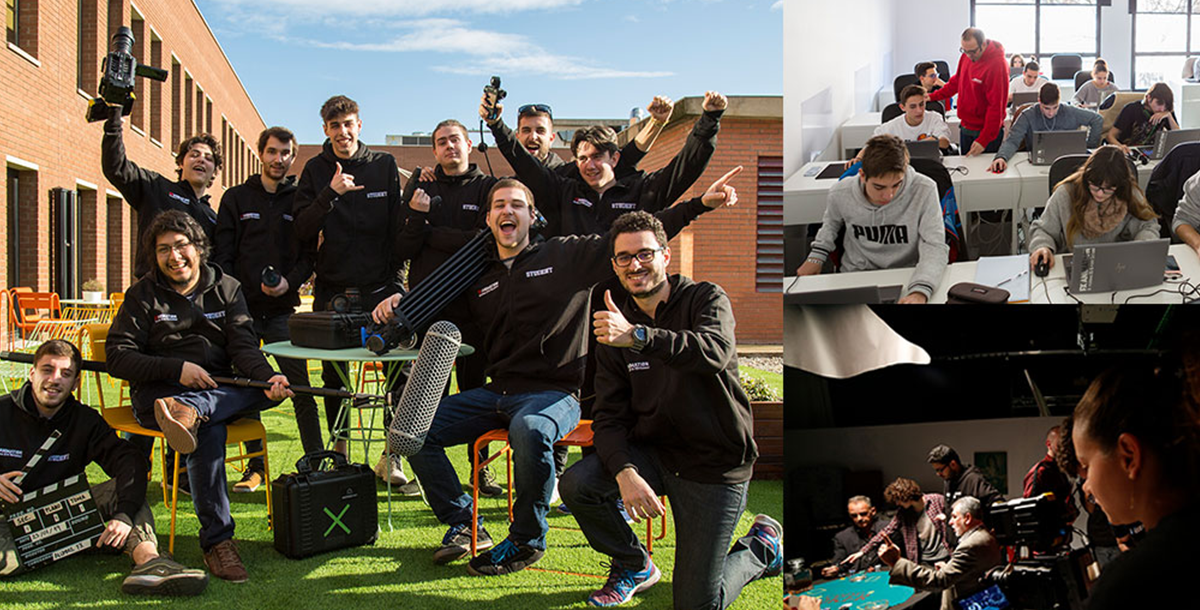 Our headquarters is a 2,500 m2 building in a unique enclave, at the heart of 22 @, in one of Barcelona's most emblematic neighborhoods: Poblenou, an area where some of the most renowned global technology companies are located: audiovisual production companies, recording studios, advertising firms, interior design and design studios. The neighborhood is, in of itself, a great movie set where you can find interesting and varied locations, including the beach – just 5 minutes away.
The building consists of 2 entrances, via C / Ávila and C / Ramón Turró and is divided into 3 floors, 2 of them with 9 training rooms, 3 multifunctional sets, terrace, outdoor set, a large study room and a dining room for students, who have all the resources to monitor and take advantage of the training. This enclave has great accessibility by public transport, with easy access by Metro, Bus and Bicing.
At FX ANIMATION Barcelona 3D & Film School we offer quality training with the best facilities in both the film and 3D sectors.
State-of-the-art facilities, the most up-to-date equipment, constant feedback from companies in the sector and a team of more than 40 professionals, experts in education, film and animation dedicated body and soul to providing quality training, make FX ANIMATION Barcelona 3D & Film School a truly unique school.
WE INVITE YOU TO VISIT US
The reception and accompaniment program for newly incorporated national and international students.
When starting training at FX, students face a double academic and social challenge: they leave their city or school and even their groups of friends to start a new life and study experience at FX ANIMATION.
The FX Family Program aims to actively integrate the student at school and in Barcelona, helping them to feel accompanied and participate in academic life from day one. As an inclusive school, the program is aimed at all students without distinguishing between any of them and respecting the individual needs of each one, at all times.
At FX, we are one big family and we strive for students, teachers and non-teaching staff to feel at home at FX. This meeting point with students strengthens coexistence, communication and knowledge exchange between the different training areas of the school. Integration and the feeling of belonging influence motivation and strong academic performance. Our program is totally free and available to all students from all backgrounds.
Bond the group and promote a sense of belonging through cultural and recreational activities.
Discover Barcelona and its socio-cultural interests
Discover how the school and its activities work.
Guide students in the operation of public transport, accommodation, procedures…
Discover the 22 @, technological and audiovisual district of Barcelona where the school and the neighborhood are located.
The program has its own WhatsApp group where students can go to share doubts, problems,  experiences or propose weekend activities.
The program has two monitors who motivate and support the group at all times.
IF YOU DON'T LIVE IN BARCELONA
At FX ,we can advise you on accommodation, visa procedures, language and any need that arises  to facilitate your stay in the city; For this purpose, we have a network of entities associated with the school.
The most important thing for FX ANIMATION is its students.
Offering a personalized service, guaranteeing the best training and ensuring that the expectations placed on the school are met, are our ultimate goals.
SCHOLARSHIP
MUJER

X

SCHOLARSHIP

TALENT SCHOLARSHIP

SCHOLARSHIPS FOR THE SELF-EMPLOYED, 

UNEMPLOYED OR THOSE IN TEMPORARY EMPLOYMENT SUSPENSION
STUDENT SERVICES
We are at your disposal to assist you:
Student advisory service:
Lucila Arteaga – lucila@fxanimation.es
Academic secretary:
Silvia Trullén – secretariaacademica@fxanimation.es
Reception:
Eric Gil – eric.gil@fxanimation.es
Rosa Burguillos – rosa.burguillos@fxanimation.es
Accounting:
Sergi Mallafré – accounting@fxanimation.es
Systems:
Enrique Ramírez and Josep Gorgori – sisitemas@fxanimation.es
Training:
Consuelo Antón – rrhh@fxanimation.es
PSYCHO-EDUCATIONAL CARE
The professional role of the educational psychologist is based on providing guidance and support to the teachers and students. The main functions aimed at the student and families are:
Attention to the students and families of the school in their academic trajectory.
Resolving doubts or questions presented by students or relatives that derive from the academic itinerary.
Attention and guidance to students with special needs.
Monitoring of students with projects, providing personal tutoring spaces that allow them to learn self-management and organization tools.
STUDENT CARD
The student card is an added value to your course or Master's. Find out about all the benefits and discounts of being am  FX ANIMATION student of
All students enrolled in FX receive their Student Card, which allows them to enter both school and sector events. In addition, they can benefit from regular discounts on transport and museums, as well as exclusive promotions and discounts offered by FX partner companies and establishments from different sectors: IT, photography, restaurants, entertainment, etc.
PERSONAL TRAINER
FX ANIMATION offers a new PERSONAL TRAINER 3D and post-production service for professionals who need to solve a specific production problem or want to delve into specific interests.
This service consists of individual and personalized sessions of a fixed duration and priced by the hour. The planning of these sessions will be carried out by an expert in 3D or post-production according to visual examples provided by the client in order to can fulfill a specific objective.
PRIVATE LESSONS
Only students and former students of the school can access private classes. The classes will be exclusively for the software they are studying or have studied. Individual hours or packs of hours may be contracted.