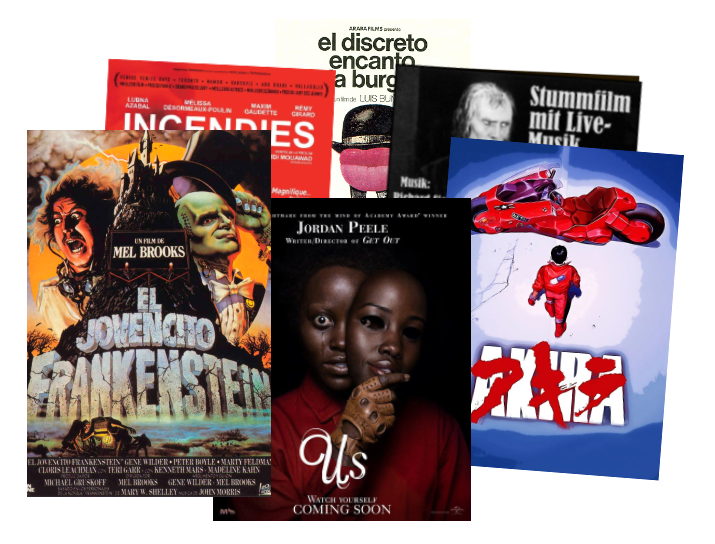 Film gazes- Analysis workshop: the history of cinema through
25 must-see movies
STARTING DATE – January 18, 2024

FILM GAZING – CINEMATOGRAPHIC ANALYSIS WORKSHOP
Aimed at students, professionals or film fans who want to know the mechanisms of film narration in a deep and structured way.
Age 18 +
Interest in cinema and cinematographic analysis
Film fans and / or students and professionals from the sector
(1921) Las tres luces por Fritz Lang
(1942) La mujer pantera por Jacques Tourneur
(1961) Suspense por Jack Clayton
(1963) El sirviente por Joseph Losey
(1966) Blow up por Michelangelo Antonioni
(1968) La hora del lobo por Igmar Bergman
(1972) El discreto encantado de la burgesia por Luís Buñuel
(1974) El portero de noche por Liliana Cavani
(1974) El jovencito Frankenstein por Mel Brooks
(1975) India Song por Marguerite Duras
(1981) Deprisa, deprisa por Carlos Saura
(1988) Akira por Katsuhiro Ôtomo
(1995) Los puentes de Madison por Clint Eastwood
(1999) La humanidad por Bruno Dumont
(2000) La comunidad por Alex de la Iglesia
(2001) La ciénaga por Lucrecia Martel
(2003) Mi vida sin mí por Isabel Coixet
(2004) Entre copas por Alexandre Payne
(2006) El laberinto del fauno por Guilermo del Toro
(2010) Incendies por Dennis Villenueve
(2011) Melancolía por Lars Von Trier
(2012) Turistas por Ben Wheatley
(2015) Taxi Teherán por Jafar Panahi
(2016) Crudo por Julia Ducourneau
(2018) Us por Jordan Pelee
This History of Cinema analysis workshop allows participants to access  – at the hands of the most renowned critics of the national sphere  (Quim Casas, Desiré de Fez, Àngel Sala, Màrius Rubio, Fabricio d'Alessandro and Manu Yañez) – film creators, styles, eras, genres or movements on a journey through the history of cinema in 25 films. The objective of this workshop is that the student can approach critical analysis of a cinematographic work, achieving a global and orderly vision of the History of Cinema. In each class, a film will be shown to exemplify the topics addressed by the teacher in the analysis and thereby establish a dynamic of debate. The student will understand through practice and analysis, the cinematographic language, the work of the director and the tools to tell a story, the work of the actors, the meaning and rhythm of the images and how to carry out an effective analysis and film critique.